Search & Rescue Mutual Aid
The Law Enforcement Branch is charged with the responsibility of coordinating state mutual aid for search and rescue in California. In addition, it receives and coordinates interstate requests under the auspices of the National Search and Rescue Plan. The branch also coordinates all local requests for state and Federal agency assistance. Because search and rescue missions are often life threatening, requests for out-of-county, state or Federal resources can be made directly to Cal OES.
Search and Rescue – Related Products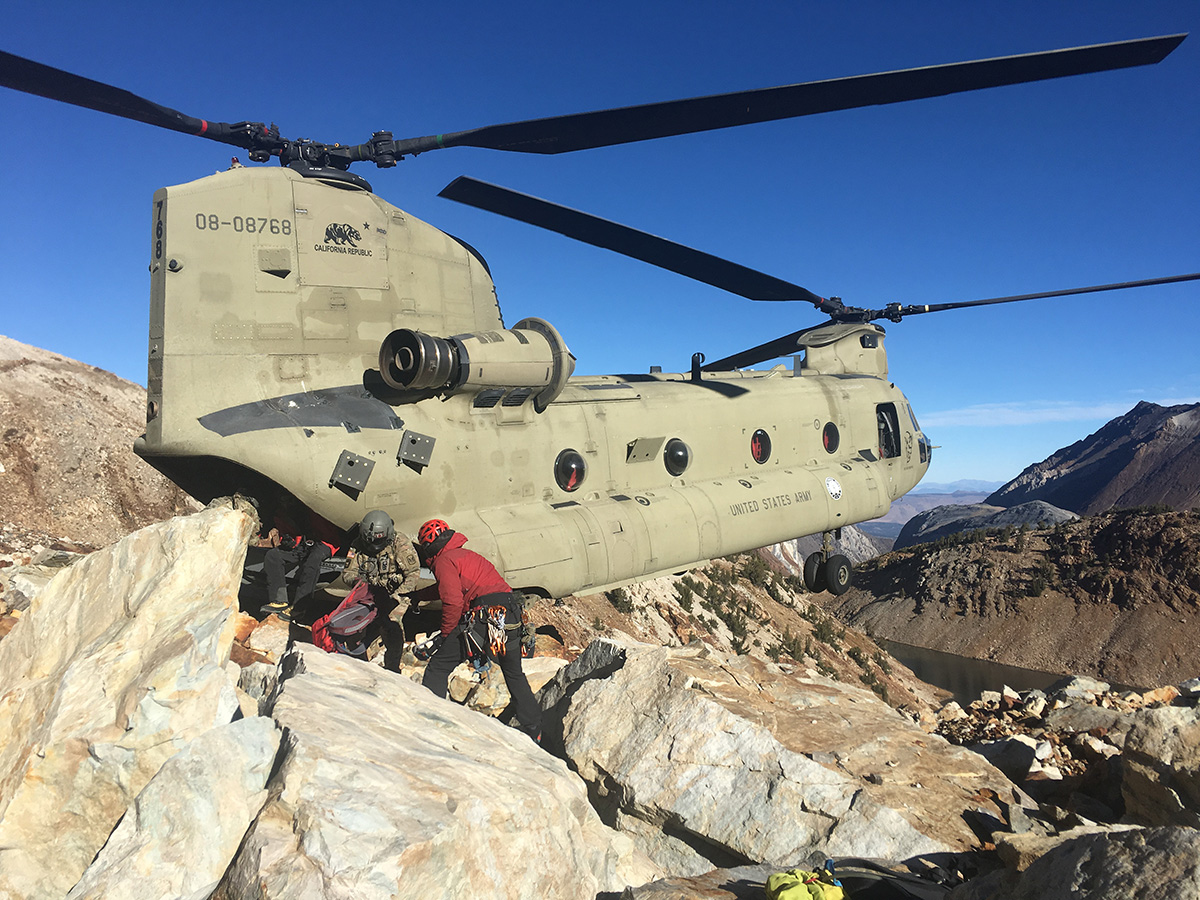 The Search and Rescue Annex to the Law Enforcement Mutual Aid Plan is a document that explains in detail, the mutual aid plan for search and rescue in California; state and federal organizations involved in search and rescue, their roles and capabilities, and the process for obtaining assistance; and detailed mutual aid guidelines for various disciplines within search and rescue. These "Mutual Aid Guidelines" are published separately to assist local government agencies in planning and preparation for search and rescue operations. The branch also offers P.O.S.T. certified classes for those persons responsible for search and rescue management: "Direction and Control of the Search Function – Search Management Course" & "Direction and Control of the Winter Search Function – Search Management Course" have been offered to law enforcement agencies' Search and Rescue management personnel for more than 25 years. More than 3000 students have completed this 40 hour supervisory course which provides valuable information on the management of wilderness search operations.
Training
​​For Information regarding the Direction and Control of the Search Function Course and Winter Operations Course, please visit our
Training Page
.
The Annual Peabody Award
In November of 2005, Mr. Larry Peabody died after a lengthy illness.​ Larry was a dedicated professional volunteer with the State of California and the Office of Emergency Services, Law Enforcement Branch. For over 27 years Larry assisted the OES Law Enforcement Branch with the dispatch coordination of search and rescue canine personnel and resources in all types of SAR missions. In the course of his work with Cal OES, Larry assisted in over 6,000 SAR missions. Throughout the majority of his affiliation with Cal OES, Larry remained available to provide dispatch coordination on a 24-hour, 7 days-a-week posture despite several bouts with major illnesses and without receiving compensation. It is only proper that an annual award be established in Larry's honor that perpetuates his admirable service to the citizens and State of California. Each year, an award will be presented to an individual SAR volunteer or team that performs their SAR duties with professionalism, dedication, and extraordinary excellence.
​Each year, the California Governor's Office of Emergency Services (Cal OES), Law Enforcement Branch, State Search and Rescue Coordinator will accept nominations for the annual "Peabody Award" from the following to include: any California law enforcement agency, emergency services agency/organization, volunteer organization, and/or civic organization.
​Nominations for the award must be received by Cal OES no later than July 31st of each year. The nomination will cover the period from previous year's August 1st to the year the nomination was submitted. A selection committee will review the submitted nominated candidates and make a final decision. The Cal OES State SAR Coordinator will notify the selected candidate and will formally present the award at the Cal OES-sponsored SAREX training in the following month of September.
​Disaster Service Worker (DSW) Volunteer Program
The Disaster Service Worker (DSW) Volunteer Program is designed to provide workers' compensation benefits to volunteers that are injured during disaster and search & rescue related activities. For complete program information and forms,
click HERE
.
Search and Rescue Team Affiliates
In order to better serve California, Cal OES is affiliated with the http://www.caloes.ca.gov/cal-oes-divisions/administrative-services/disaster-service-worker-volunteer-program following search and rescue groups:
California Search & Rescue (CALSAR)
California Rescue Dog Association (CARDA)
Monterey Bay Search Dogs (MBSD)
Wilderness Finders Search Dog Teams (WOOF)
Far West Division of the National Ski Patrol (NSP)
California Wing of the Civil Air Patrol (CAP)
Other Search and Rescue Links:
California Region of the Mountain Rescue Association (CRMRA)
National Association for Search and Rescue (NASAR)
Informational Resource Links:
About the Advanced Search Management Course:
"Great week teaching a new course 'Advanced Search Management' with Cal OES Law Branch. This course teaches Type III IMT concepts for extended SAR missions, terrain-based search theory, application of advanced CALTopo features, fire evacuation and recovery operations, and incident Leadership, utilizing scenario-based training. We ad a great group of students from eight Sheriff's Departments, the Civil Air Patrol, and the National Park Service. We also got some excellent feedback and look forward to the next class in Santa Barbara in early November. A big thanks to the Contra Costa Sheriff's Office for use of their new EOC for the class, and a shoutout to my fellow instructors Matt Jacobs, Richard Shelton, Kobe Poke, and Troy Clegg."