​The California Governor's Office of Emergency Services (Cal OES) responds to and aids in the recovery from emergencies within the State of California under the authorities of the California Emergency Services Act (ESA), the California Disaster Assistance Act (CDAA), the federal Robert T. Stafford Disaster Relief and Emergency Assistance Act (Stafford Act), and other legislation.
Within Cal OES, the Recovery Directorate is responsible for managing disaster recovery and providing assistance to local governments, special districts, certain nonprofit organizations, individuals, businesses and agricultural communities impacted by disasters and ensuring state and federal support are provided in an efficient and timely manner throughout the recovery process. The Recovery Directorate acts as the grantee for federally funded disaster assistance programs, as grantor for the state CDAA program, and coordinates recovery assistance for individuals, businesses, and the agricultural community. Our staff also provide expert review for environmental concerns, historical preservation activities, and technical support to reduce overall disaster costs and streamline the process of future recovery efforts. In support of these responsibilities, the Recovery Directorate also performs extensive liaison activities with local, state and federal agencies, legislators, various volunteer and nonprofit organizations, as well as the general public.
Our staff coordinate with state and local agencies, communities, organizations, and individuals to promote resiliency efforts throughout local communities, identify critical community functions both before and after a disaster to prioritize effective recovery operations, facilitate community preparedness and risk management actions to reduce long-term vulnerabilities, and support post-disaster community recovery and redevelopment.
The Recovery Directorate is comprised of three (3) sections — Recovery Operations, Hazard Mitigation, and Interagency Recovery Coordination. Each section strives for excellence in recovery preparedness through the coordination of recovery planning efforts, the development of recovery training programs, and the involvement in emergency management exercises and drills.
Funding for Emergency Assistance
Recovery Operations
Overseeing and managing critical disaster funding streams, cost recovery requirements, and debris removal operations to support state and local jurisdictions with program reimbursement, debris management practices, and compliance with federal and state funding programs
Building Resiliency in California Communities
Hazard Mitigation
Supporting state and local mitigation efforts to reduce the negative impacts of future disasters on lives, property, and the environment through state and local mitigation planning, grants administration, loss avoidance analysis, and specialized technical assistance and expertise
Integrating Community Recovery Solutions
Interagency Recovery Coordination
Coordinating long-term recovery efforts, promoting resiliency in local jurisdictions, and providing technical assistance and expertise to support the implementation of community recovery projects and programs in disaster-impacted communities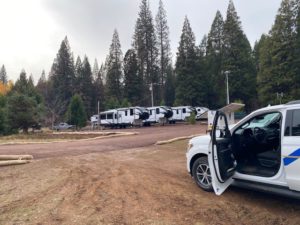 Following the Dixie Fire, Cal OES purchased a total of 14 travel trailers to serve as temporary housing for displaced Greenville families.
Known as the Home Hardening Program, the $536 million wildfire prevention bill and funding will be available to Californians who take specific steps to ensure their property has the best chance at surviving a wildfire.
As many of you may already be aware, emergencies and environmental disasters move fast. One of the best ways to prepare your city during an emergency or environmental disaster is to utilize emergency related preparedness & recovery programs and take advantage of the funding opportunities available. Building a strong partnership with your local and state emergency management office will not only help you build a culture of preparedness before these disasters take place, but it can also reduce the severe impacts your city may experience from economic disruption, property damage, and loss of life, so that you can plan, prepare, and deliver the level of service that your community expects and deserves.