Federal Disaster Assistance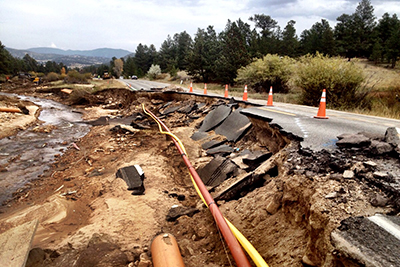 In a catastrophic disaster, and if the state's governor requests, federal resources may be mobilized through the U.S. Department of Homeland Security's Federal Emergency Management Agency (FEMA) for federal assistance to state or local governments to pay part of the costs of rebuilding a community's damaged infrastructure.
Federal assistance may include funding for debris removal, emergency protective measures and public services, repair or replacement of damaged public property, loans needed by communities for essential government functions and grants for public schools. FEMA coordinates with Cal OES to implement the Public Assistance (PA) Grant Program.
Stafford Act Declarations
Major Disaster Declaration (DR)
The President can declare a DR for any natural event the president believes has caused damage of such severity and magnitude that it is beyond the combined capabilities of State and local governments and disaster relief organizations to respond.  A DR provides a wide range of Federal assistance programs for individuals and public infrastructure, including funds for both emergency and permanent work.
Emergency Declaration (EM)
An EM can be declared for any occasion or instance the President determines Federal assistance is needed to supplement State and local efforts and capabilities to save lives, protect property and public health and safety, or to lessen or avert the threat of a catastrophe.  The amount of an EM declaration is capped at $5 million per single event unless continued assistance is need to alleviate the threat to lives, public health, and safety.
DR/EM Sample Process
A joint Preliminary Damage Assessment is conducted by FEMA, Cal OES, and local partners to determine losses and recovery needs
The Governor requests federal assistance
The President approves the request for federal disaster funding or FEMA informs the governor it has been denied. This decision process could take a few hours or several weeks
Cal OES holds Applicants' Briefings to provide a general overview of the Public Assistance (PA) program and describe the application process
Applicants submit a Request for Public Assistance to Cal OES within 30 days of the date of the declaration
Kick-off Meetings for eligible applicants are held with FEMA, Cal OES and the local partner to provide a more detailed review of the program and specific applicant needs
The applicant submits a List of Projects to Cal OES
Damaged sites are documented using a Subgrant Application (Project Worksheet)
Eligible Project Worksheets are obligated
Funding is disbursed through Cal OES to the applicant as appropriate
Applicants are required to provide quarterly status updates for each large project
Applicants must submit time extension requests prior to the last approved project deadline
Applicants complete construction of their projects and notify Cal OES (within 60 days of completion of EACH large project or within 60 days of completion of ALL small projects)
Cal OES and FEMA complete a closeout of the application

Payments
For any questions regarding your Public Assistance (PA), California Disaster Assistance Act (CDAA), Coronavirus Assistance (COVID-19), or Fire Management Assistance Grant (FMAG) payments, please direct questions or concerns to the Public Assistance Financial Processing Unit at (916) 845-8110 or RecoveryPayments@caloes.ca.gov. 
Technical Assistance
For questions and other Public Assistance related inquiries, please send an email to DisasterRecovery@CalOES.ca.gov or call (916) 845-8200.