​S.A.F.E. Act – Surplus Fire Equipment
The California Governor's Office of Emergency Services (Cal OES) Fire & Rescue Division has Surplus Fire Apparatus available for purchase through the State Assistance for Fire Equipment Act (S.A.F.E. ACT) Program. These apparatus come with a standard complement of equipment excluding radios.
Regarding the Information System Network for Sellers and Buyers:
All units are sold with varying amounts of firefighting equipment.
Each unit is sold in operating condition, is roadworthy, and able to fight fire.
Each engine is sold "AS-IS"; no warranties.
Fleet – SAFE Act
Cal OES Information System Network
Cal OES Information System Network for Sellers and Purchasers of Firefighting Apparatus and Equipment – Apr2015
Cal OES Scoring Sheet
Cal OES Scoring Sheet for Application to Purchase Fire Vehicle – 2019
Contact Information
Fleet Staff
Phone: TBD
Fire.Rescue.Fleet-Repairs@caloes.ca.gov
If interested, please send your completed application to the Fleet Staff.
S.A.F.E. ACT ENGINES AVAILABLE
Fleet Announcement Update (03/21/23) CURRENTLY NO TYPE I ENGINES AVAILABLE – YEAR 2000 – 2002/HME/WESTATES
1250/800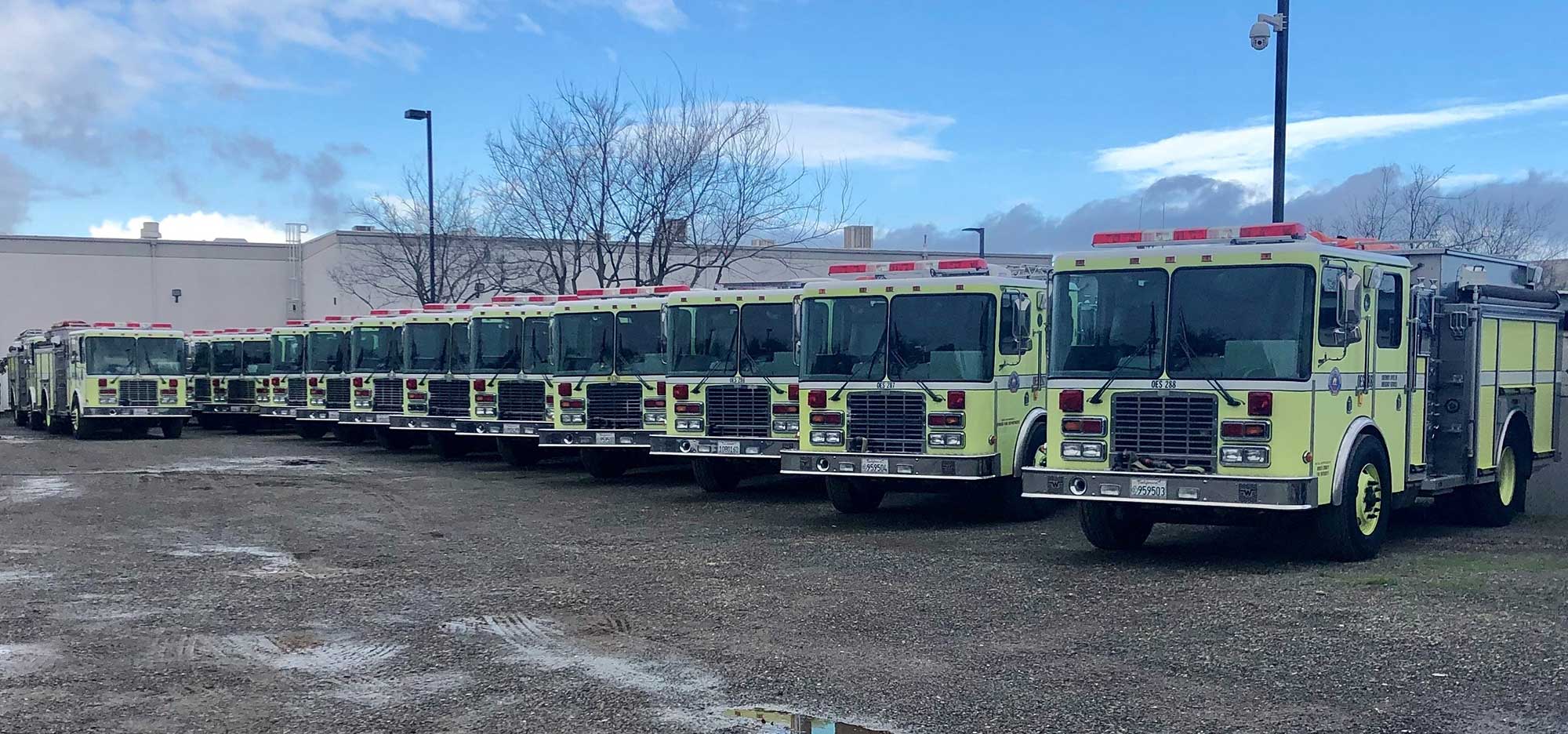 EQUIPMENT INVENTORY MAY INCLUDE BUT NOT GUARANTEED
1 – Adapter, 5″ or 6" x 2-1/2″, DF Hydrant
1 – Adapter, 5″ or 6" x 4″, DF Hydrant
1 – Adapter, 5″ or 6" x 4-1/2″, DF Hydrant
1 – Axe, Pickhead
2 – Block, Chock
2 – Cans, Fuel
5 – Cap, 2-1/2″ Discharge
1 – Chain, Tow 25′, w/Grab Hooks
1 – Clamp, Hose (Hebert)
2 – Coupling, 2-1/2″, DF
2 – Coupling, 2-1/2″, DM
1 – Crank, Hose Reel
1 – Cutter, Bolt, 30″
1 – Fire Extinguisher, 4# or 5#
1 – First Aid Kit
1 – Floto Pump, EMA #
1 – Generator, 3500 Kw
2 – Hammer, Sledge, 8-10 lb.
4 – Hose, 1″ x 100′, IPT
1 – Hose, 1-1/2″ x 35′, Truck Protection Line
12 – Hose, 1-1/2″ x 50′, NST
8 – Hose, 1-1/2" x 100', Forestry
24 – Hose, 3″ x 50′, NST
2 – Hose, Booster 1″ x 100′
2 – Hose, Hard Suction 5″ or 6" x 10′
1 – Hose, Soft Suction 5″ or 6" x 12′
1 – Increaser, 1″ IPF to 1-1/2″ NSM
1 – Intercom Set
1 – Ladder, 10' Attic
1 – Ladder, 14′ Roof
1 – Ladder, 24′ Extension
1 – Lantern, Hand, 12 Volt
2 – Light, Halogen, 110 Volt
1 – Log Book, w/Credit Card
1 – Mallet, Rubber
1 – McCleod
2 – Nozzle, 1″, Combination
4 – Nozzle, 1 ½", Combination
1 – Nozzle, Deluge Set w/Stream Straightener and Tips 1-3/8″, 1-1/2″, 1-3/4″, 2″
1 – Nozzle, 1 ½", Foam, Air Aspiration
1 – Nozzle, 2 ½", Fog
2 – Nozzle, 2 ½", Shutoff w/Tips
1 – Cal EMA Operations/Maintenance Bulletins
1 – Pike Pole
1 – Pulaski
1 – Radef Kit
1 – Radio, Mobile Serial
1 – Radio, Serial
1 – Reflector Kit, 3-Unit
2 – Rope, 1/2″ x 100′
1 – Shovel, Long Handle, Round Point
1 – Siamese, 2-1/2″
1 – Soft Suction Hose, 2-1/2″ or 3" x 12′
1 – Strainer, 5″ or 6" Suction Hose
4 – Strap, Hose and Ladder
2 – Wrench, Adjustable Hydrant
1 – Wrench, Hard Suction Hose Spanner
4 – Wrench, Hose Spanner
1 – Wye, Gated 2-1/2″ NSF x 2-1 1/2″ NSM
***************US&R INVENTORY:***************
1 – Axe, Flathead
1 – Backboard, w/4 Straps
4 – Bar, Pinch Point, Pry, 60″
2 – Bar, Claw, Wrecking, 3′
2 – Belt, Carpenter
3 – Blade, Hacksaw, High Speed, Package
2 – Blanket, Disposable
6 – Camming Device, (Prusik Loop or Gibbs Ascender)
12 – Carabiner, Locking, "D", 11 mm
1 – Chainsaw, w/ carbide chain and tool kit,
2 – Chisel, Cold, 1″ x 7-7/8″
1 – Cribbing & Wedge Kit, (24 ea, 4″ x 4″ x 18″, 2″ x 4″ x 18″; 12 pr, 4″ x 4″ x 18″, 2″ x 4″ x 12″ Wedges;
Storage/Carry Containers)
2 – Edge Protectors
2 – Friction Device, (Fig. 8 w/Ears or Brake Bar Rack)
2 – Hacksaw
2 – Handsaw, Crosscut, 26″
2 – Hammer, Framing, 24 oz.
2 – Hammer, Sledge, 3-4 lb., Short
2 – Harness, Commercial (Class 2 or better)
2 – Jack, Hydraulic w/Handle (8 ton)
2 – Kernmantle, ½" x 150′, Static, NFPA Approved
1 – Litter & Complete Pre-rig
1 – Marking Kit, Building
1 – Nails, (25 lbs. Each: 16p, 8p, 16p Duplex)
6 – Picket, Steel, 1″ x 4′
3 – Pulley, Rescue (2″ or 4″)
1 – Shovel, Scoop, "D" Handle
1 – Shovel, Long Handle, Square Point
2 – Square, (Tri or Speed)
2 – Strap, Pick Off, w/"D" & "V" Rings
3 – Tape Measure, 25′
2 – Tape, Duct
1 – Trauma Kit
1 – Webbing Kit, (6 ea: 1″x5′, 1″x12′, 1″x15′, 1″x20′)
1 – Backpack, Thermo-Gel
1 – Nozzle/Eductor, Thermo-Gel
2 – Bucket, 5 Gal, Thermo-Gel