Standardized Emergency Management System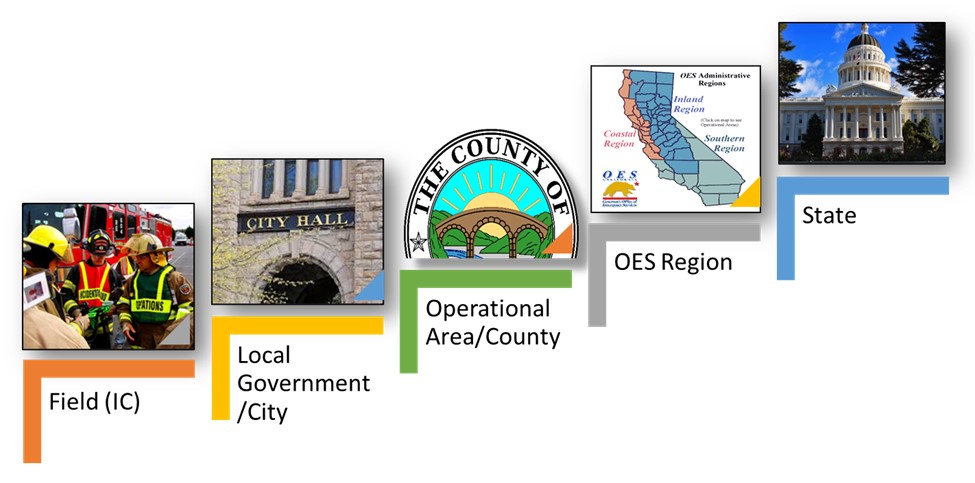 Overview of SEMS
Why the Standardized Emergency Management System (SEMS)?
In order to respond to frequent and multiple disasters occurring anytime and anywhere in the state, it is important that emergency response agencies operate within a clear and consistent organizational structure. Public agencies are increasingly required to manage the costs of emergencies more effectively with fewer resources. Many different agencies must work together effectively to protect lives, property, and the environment during disasters. SEMS facilitates priority setting, interagency cooperation, and the efficient flow of resources and information.
What is SEMS?
SEMS is the cornerstone of California's emergency response system and the fundamental structure for the response phase of emergency management. The system unifies all elements of California's emergency management community into a single integrated system and standardizes key elements.
SEMS incorporates:
Incident Command System (ICS)

– A field-level emergency response system based on management by objectives.

Multi/ Inter-agency coordination

 – Affected agencies working together to coordinate allocations of resources and emergency response activities.

Mutual Aid

– A system for obtaining additional emergency resources from non-affected jurisdictions.

Operational Area Concept

– County and its sub-divisions to coordinate damage information, resource requests, and emergency response.
System Maintenance
Cal OES has developed a SEMS Maintenance System to address the need for changes. The three-tiered system encompasses an Advisory Board, Technical Group, and Mutual Aid Regional Advisory Committees (MARACs).  Collectively, these multi-agency groups make changes to the system when necessary.  They include representatives from all disciplines involved in emergency response.  The Cal OES Emergency Management Systems Unit (EMSU) supports these multi-agency groups to ensure methodical review, evaluation, and approval to any improvements.
Compliance
The California Emergency Services Act 2021 Edition (ESA) requires SEMS for managing multiagency and multijurisdictional responses to emergencies in California. State agencies are required to use SEMS and local government entities must use SEMS in order to be eligible for any reimbursement of response-related costs under the state's disaster assistance programs.
Scott Marotte
Senior Emergency Services Coordinator